Parents
Students
Staff
Community
Aaronda Q. Beauford, M.Ed.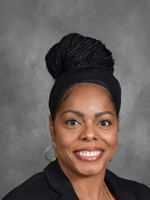 Director of Communications
As a proven, forward-thinking leader in Education, Aaronda Q. Beauford has served as a K-12 school teacher, Principal and District administrator for the past 25 years. She joined Upper Darby School District in 2014 as Principal of Stonehurst Hills Elementary School where she served for 5 years. Having worked with students and families in the elementary, middle and high school setting for decades, she possesses a keen understanding of the complexities and sensitivities that engulf educational systems today and is able to apply the multi-lensed approach that is needed for communicating effectively with educational stakeholders. Her passion for students and their families, education, educators and for building partnerships with school and District stakeholders through strong communication is proven. She is a strong advocate for children, quality education and equity, diversity, inclusion and belonging.
In her role, she serves as the key spokesperson and media contact for the District, oversees internal and external communications, handles the organization's public relations and branding, creates communication strategies, and works closely with the Superintendent, the Superintendent's Cabinet, the School Board of Directors, District administrators, and Principals in 14 schools with community engagement efforts, media and social media presence, website management, and content development for community communication in a multitude of forms. She is a member of the Superintendent's Cabinet, the National School Public Relations Association, the Pennsylvania School Public Relations Association, the DCIU District Communications Professionals Group, the Delaware County Press Club, and other professional, social, and philanthropic organizations.
She earned a Bachelor's degree in education from the University of New Orleans, a Master's of education degree from Cheyney University, a Principal's Career and Technical Education certification from the Pennsylvania Association of Career and Technical Association (PACTA) in partnership with Temple University, a Superintendent's Letter of Eligibility through the California University of Pennsylvania and is a doctoral candidate at Nova Southeastern University.
Mrs. Beauford was born and raised in New Orleans, Louisiana and has lived in the Northeast for almost 25 years. She enjoys spending time with her husband of almost 25 years and her two children.