Parents
Students
Staff
Community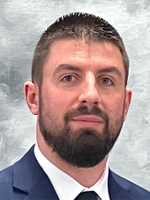 John-Paul Loggia
Supervisor of Transportation Services
(610) 352-7112
John-Paul Loggia joined the Upper Darby School District as the supervisor of transportation in October 2022. John-Paul believes in working diligently alongside the administrators, teachers and staff to continue and grow the legacy of success established by the Upper Darby transportation department. It is his hope to build strong relationships and to provide a safe and secure environment for students and staff.
Prior to joining Upper Darby School District, John-Paul has over twelve years of experience in the operations and logistics departments in the sport and entertainment industry, primarily at the Wells Fargo Center in Philadelphia. His attention to detail and desire to provide a safe environment helped him set up and execute a variety of events, including: NHL hockey games, NBA basketball games, NCAA basketball games, concerts, comedy shows and the 2016 National Democratic Convention. John-Paul will bring that passion and energy as he joins the transportation team at Upper Darby.
John-Paul attended Temple University and obtained his Bachelor's Degree in Sport & Recreation Management in 2010. John-Paul lives in South Philadelphia with his family and in his free time, he loves spending time with his family, traveling and watching all Philadelphia sports teams.