Parents
Students
Staff
Community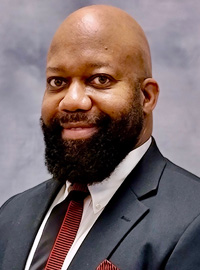 School Assignment(s): Highland Park Elementary, Bywood Elementary
Liaison Assignment(s): Technology, Legislative
Reading Report Assignment(s): Minutes of the Combined Work Session/ Regular Meeting, Budgeted Personnel, and Enrollment Reports
Committee Co-Chair(s): Finance and Operations
Edward W. Brown was elected to the Upper Darby School Board of Directors in 2017. Ed and his family have been residents and homeowners of the Township for the last 24 years. Ed is focused on increasing learning opportunities and establishing community partnerships that will take advantage of the rich diversity of our community.
Ed possesses an MBA from Drexel University, a Master's Degree in Network Security from Capitol Technology University and Project Management certification. He currently works for Lockheed Martin Corporation as a Cyber Security Engineering Manager. Ed was educated in the Philadelphia Public School System and is a staunch advocate of quality public education. Ed served his first 2 years on the Board as Vice-President. Ed served as President of the non-profit organization, Men of Action, from 2014-2019, and led their mentoring, community, and education initiatives.
Ed has been active in our schools and has served on many school related committees and organizations. This list includes the Parent Involvement Program (PIP) Committee and the Facilities Committee among others. He served on several home and school associations as President and Vice-President. Currently, his focus as a School Board Director has been in the areas of Finance, Technology, and Community Engagement. He is the current co-chair of the Finance and Operations Committee, the PSBA Liaison, and the Technology Liaison.