Parents
Students
Staff
Community
Mr. Damien Christopher Warsavage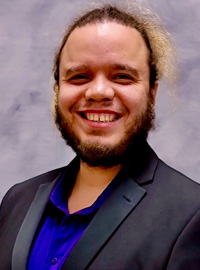 School Assignment(s): Aronimink Elementary, Highland Park Elementary
Liaison Assignment(s): Districtwide Home & School Association, Legislative
Reading Reports Assignment(s): Supplies Report
Co-Chair Assignment(s): Finance and Operations
A Japanese/Korean vocal musician by trade, Damien Christopher Warsavage, YE-CRS, CRS earned his Recovery Specialist credentials from The Council Of Southeast Pennsylvania & the Pennsylvania Certification Board in 2015. He was hired by Young People In Recovery as a Site Leader for its "My Recovery Is E.P.I.C." program in the Greater Philadelphia area in September 2015 and was promoted to serve as YPR's 1st National Program Partnership Coordinator from 2016 - 2017.
Supporting causes greater than his own self-interests, Mr. Warsavage is also a community activist in Upper Darby, Pennsylvania, where he has met with local leaders & elected officials regarding equitable public school funding, LGBT+ youth rights advocacy, & increased access to substance abuse recovery supports for the Upper Darby School District. In 2018, Mr. Warsavage was appointed by the Mayor of Upper Darby to serve as a founding member of what would later be known as Upper Darby Recovery Without Barriers.
Damien Warsavage's passion for substance abuse recovery community advocacy was born from the sudden losses of his brother, Allen Christopher, & father, John Christopher, both of whom passed away from substance use disorder-related circumstances, within a week of each other, in April 2014. It is Mr. Warsavage's greatest hope that his family's life story will empower others to turn their grief into positive change by any (productive) means necessary.
Mr. Warsavage also volunteers his time to his homegrown Asian culture outreach organization, The Asian Karaoke Idol Invitational. Born from his passions of Asian music, creative expression & anime/gaming, Mr. Warsavage created TAKII in 2002 at the age of 17. Over the years, The Asian Karaoke Idol Invitational has held its own multi-day festivals & has been invited to provide entertainment & education to other conventions/schools/community groups on the East Coast. Also known affectionately as D-chan, Damien Christopher Warsavage is a son to John & Marilyn Christopher, husband to Alexander (as of 2017), brother to Allen + Allison/Kirk + Marilyn/Ronce + Biancka, & uncle to Jeremih, Karson, Aubrey, Myles, Akira, Amani, & Aaliyah.
Damien was duly elected as School Director in the November 2019 municipal elections & looks forward to working with the school district's "team of 10" to bring increased equity & a 21st century public school experience to all of our young people.