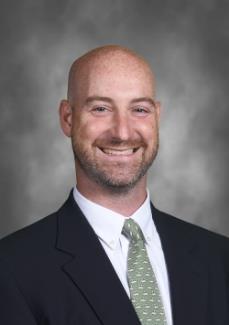 Phone: 610-853-4580
Email:
Degrees and Certifications:
Dr.

Matthew Alloway

Dear families,

Thank you for visiting the webpage of the Drexel Hill Middle School! As your principal, I take the responsibility to facilitate, organize, and manage an educational environment that serves as an outstanding resource for our community. Many of my decisions and actions are made based on my professional educational experiences, and from seventeen years of service to the Upper Darby School District, including ten years as both a middle school teacher and administrator. Other decisions are made based on being a member of your community and also a parent of a middle school child. The responsibilities of all of us here at Drexel Hill is to make certain that your families have access to the best educational experience during these middle school years.

Middle School teachers understand that their work is never done. We take in the children of our community and support their growth at a time where students are making connections, deepening their knowledge, and also in growing socially, physically, and emotionally. In middle school, there is no graduation and final moment. We measure our success through the growth of each student from the time they entered our classrooms until we send them to high school, prepared for their continued education. Middle school teachers can be satisfied when they know students have reached personal and individual growth goals in achievement.

In service to our families, I encourage you to participate as members of our school community. I look forward to working with families at the Home and School Association, and through attendance and participation in school-based activities and presentations. Two-way communication is critical to our success in meeting your needs. I will continue to send weekly communication to all families, as well as presentations to the Home and School. On the other side of communication, please connect with our teachers, staff, and administrators to address any of your thoughts and ideas throughout the year.

The Drexel Hill Middle School has a tradition of PRIDE that dates back to the first cohort of students who attended our school. Our goal is to maintain that PRIDE through our student programs, outstanding inclusive educational experiences, and family atmosphere. Thank you for visiting our school site and for entrusting our team with the responsibility to help your children grow and thrive!

Matthew Alloway, Ed.D.