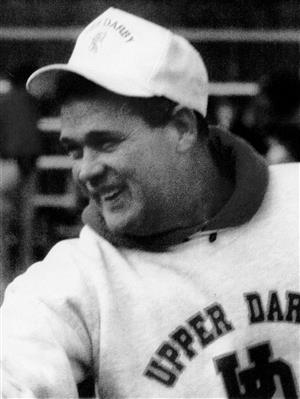 Phone:
Email:
Degrees and Certifications:
John "Jack" Shingle

Class of 1962

Year of Induction 2018

John Levi Shingle graduated from Upper Darby School District in 1962. He went on to attend Pierce Junior College. He spent most of his free time singing doo wop with his friends or coaching CYO football all over the Upper Darby area, but mostly at Observatory Field for St Laurence. His recruiting ability was noticed by the Upper Darby School Board, and Jack was hired by Upper Darby High School principal Gil Minacci to revitalize the Royals football program. Jack walked the halls and went door to door to recruit athletes to play football and would not take no for an answer. Because of his perserverance, Jack made Upper Darby Football cool again, and the program became successful. During this time, Jack became a truant officer for the Upper Darby School District, as well. Jack took this job very seriously and was known to go to students' houses, wake them up, and drive them to school personally to keep them from being truant. During these rides, he would encourage students to start to take pride in themselves, giving them confidence and letting them know that they are not alone. Often, what these students needed was for someone to believe in them, and Jack saw that. He had a way of motivating Upper Darby's youth and getting the best out of them on and off the field. Jack was also dedicated to the community. He began by helping to reconstruct the Observatory Field, making it a nice place to take your children. He was also the Co-founder of the Highland Park Civic Association, which was formed to promote and protect the privileges and interests of the community. Jack later ran for Upper Darby Township Council and served his community as the Fourth District councilman for 20 years. He served on numerous boards and helped many people in the community get back on their feet by helping them find employment. Jack Shingle died 2016.