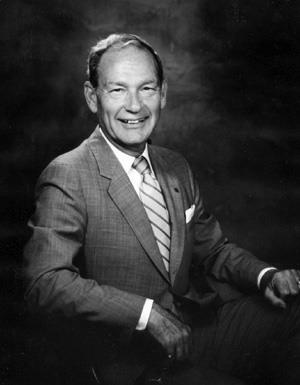 Phone:
Email:
Degrees and Certifications:
Frank Videon

Class of 1942

Year Inducted 1995

Frank Videon was a principal in his family's Delaware County funeral home and car dealerships. After graduating form Upper Darby High School, he served as a Navy pharmacist's mate, mostly in Washington. A 1947 graduate of Eckels College of Mortuary Science, he was licensed as an undertaker in 1949 and began his career working in the Drexel Hill funeral parlor opened by his father in the 1940s. Simultaneously a part-time salesman for a Clifton Heights car dealership, in 1953 he became its full-time sales manager and left his funeral-home job.

He was a chairman of Haverford Community Hospital and of the Garrett-Williamson Foundation in Newtown Square, which operates a child-care and learning center. In the 1970s, he helped establish, and was a president of, the White Horse Village retirement community in Newtown Square.

He was a president of the Newtown Square Rotary Club and the Newtown Square Business and Professional Association, and was a president of the Marple Newtown Fourth of July parade.

Among his citations, Mr. Videon was Marple Newtown Man of the Year in 1972 and Marple Newtown Citizen of the Year in 1985. He was a member of the Marple Newtown Sports Hall of Fame and was Upper Darby Education Association's Man of the Year.

A president and board chairman of the Pennsylvania Automotive Association, he was a president of the Delaware County Dealers Association and a director of Commerce Bank.

He was also a Mason and an honorary life member of the Marine Corps League and the Broomall Fire Company.

In Upper Darby, he was president of the UD Boosters Association, the Jaycees, the Alumni Association, and Treasurer of the Optimist Club. In Marple Newtown, he served as president of the Boosters Association, the Rotary Club, and Business and Professional Association.

Frank Videon passed away in January of 2011.